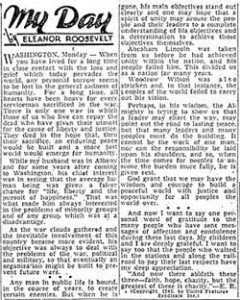 First of all I should explain that Friday's topic title is a reference to Eleanor Roosevelt's newspaper column My Day. She wrote this column six days a week from 1935 to 1962. So while I'm aware I'm being stupidly overambitious in my suggestion that I will write a blog every day (and I can tell you now that I won't) – it certainly is possible to keep up a stringent schedule.
But the real reason for having this category in the first place is that I want this to be a research journal, and not just a means of sharing anecdotes. I hope to be able to give insight in my own process of writing a PhD dissertation, or at least to create something I myself can look back on to see how far I've come.
This was an odd week. It started off on a high, because exactly a week ago now, my tv performance was broadcast. So I received lots of really great reactions (Thanks everybody!). I worked on setting up this blog, wrote bits for it, received the first feedback on it, and thought a lot about how to let the world know of its existence (tips about this are still very welcome – if you know how to let people know without harrassing them, please tell me!).
Otherwise, I didn't really get to work properly. Monday was all filled with blog stuff, Tuesday and Wednesday are my teaching days, and yesterday was a Phenomenally Bad Day (workwise, that is). I have to prepare a paper, which I'll present in three weeks, but which has to be finished next week. I'm going to discuss a first draft with my supervisor next week, so that draft should be done by the end of this weekend. I basically know what I want to say, but I can't get it written down, because I feel incredibly selfconscious and insecure about starting. No idea why. I don't particularly believe in writers block or anything like that. Writing to me has always been a matter of self-discipline, not something I usually have trouble with. I just have to put in the time and the concentration and then text will emerge; text which I can later turn into good text if necessary.
And yet yesterday I couldn't get started. I read and reread some things (Mieke Bal, Loving Yusuf; Ann Rigney, The Afterlives of Walter Scott, both about cultural memory, the latter particularly addressing the possibility of influencing one's own place in memory), which was good but also intimidating, because these are paradigmatic works underlying my research. I am hoping to further develop their theories (among others), and its daunting to see how good they are.
The upside is that I know I always produce something by the deadline (Monday), and that after all I do know what I want to write. So let's hope for a fruitful Easter weekend