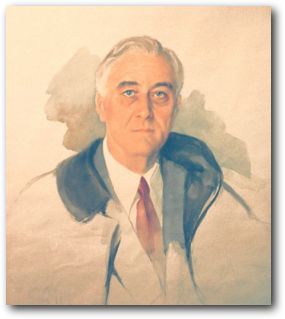 It is precisely 68 years ago today that Franklin Roosevelt died of a cerebral hemorrhage around lunchtime in Warm Springs, Georgia. He had gone to his "Little White House" (which was part of the polio rehabilitation center he had founded there) to recover from the strain of the Yalta Conference with Stalin and Churchill. There are various conspiracy theories about what exactly Roosevelt may have had, and how much he may have known about that before. Personally I have the impression that he probably knew he was very ill well before he died (possibly also before he ran for reelection in 1944), but didn't want to know, and therefore never acted on this latent knowledge. He was later blamed for not informing his vice-president Truman in more detail about the war and current affairs, especially given that he must have known Truman was likely to have to take over from him. To me that seems more or less logical, assuming that he was indeed in denial. But I don't of course know for sure whether he was, and my research does not pretend to add any new information about such issues, so it's really only my own speculation.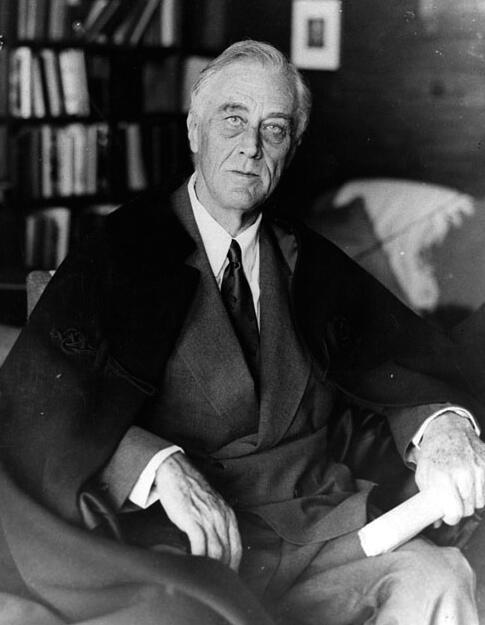 The Unfinished Portrait above was being done at the moment Roosevelt died – he was sitting for it, when he suddenly became unwell. During the sitting he must have looked like this. Not well, I'd say. The artist doing the portrait was Elisabeth Shoumatoff, a friend of Roosevelt's mistress Lucy Mercer Rutherfurd. Both were present at the scene of his death, unlike Eleanor. The Unfinished Portrait is often taken as symbolic for Roosevelt's unfinished project in the world, and his great unfinished plans for US society. One of those plans was later carried out by Eleanor, who became America's first Delegate to the United Nations' General Assembly. To my mind, the head in the Unfinished Portrait seems to float in a huge vacuum. This effect is stronger when you see the actual portrait, because there is much more white around it, and Roosevelt's head seems comparatively very small. He does not necessarily look like a dying man in the portrait, but I'm very tempted to read all sorts of things into it, of which I doubt they are justifiable. Are you? What do you think?
As for my week: it was fairly good workwise. I didn't do enough on Monday, despite starting very early in the morning. I was extremely tired and busy doing the wrong things (work-related though they were). But yesterday I did eventually, three days later than planned, finish the final version of my paper (thanks Ann Rigney, Peter Liebregts, and Frans-Willem Korsten for bearing with me!). Since then I've been back to my other project for April: rewriting the first five chapters of my thesis. Yesterday I mostly spent time making an inventory of what I still need to do (a lot), and planning when to do it (way too optimistically, so when I'm complaining about this in coming weeks, tell me that I told me so). But early this morning I was suddenly extremely productive and less tired, so who knows.