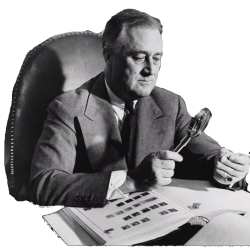 First of all: sorry about the long absence! I was not even busy with work, but on holiday high up in the Alps, where there are very few wireless internet waves in the air (nor quite enough oxygen). It won't be the last long absence either, because I am expecting a baby, which will no doubt lead to temporarily diminished blog-attention. Apologies in advance.
And secondly: thanks so much to everyone who replied to my plea for help with the matter of FDR's stamp collecting (actually of course: thanks a million to everyone who ever replied to any blog post! But today I'll revisit the matter of stamps) Various (semi-)professional philatelists have been helpful in pointing out the flaws in the photograph (FDR seems to be looking at an empty page, reading from back to front, a "real" stamp collector would not hold a stamp with his fingers, but would use pincers, etc.). Others, like Margaret Voorhees in Canada and Henk Schonewille in the Netherlands have helped me develop my thinking, not only with their knowledge, but particularly also by asking critical questions ("If you want to say whether FDR was a stamp collector, how do you define stamp collector?").
The point is not, to my mind, whether or not FDR really was a stamp collector (he owned a stamp album as a boy and died leaving a huge collection of stamps, so there can't be much doubt really). But I would like to know more about why he was one and what motivated his interest in stamps. What I find very intriguing about the previously cited blog post is that it suggests he only became a more serious collector when he discovered in early 1933 (i.e. after he had been elected but before the was inaugurated as president) that the media were very interested in the president's hobby. Much more generally, I hope to be able to argue in my dissertation that one important way in which FDR developed the presidency, is that he brought his own private life into his public execution of the office; that he actively used elements from his private life in the media to create a highly personal image for himself. Which was then – I'll try to argue – a relatively new habit that has stuck to the presidency (and to celebrity and stardom in general), and which has made supposedly personal passions like the stamp collecting such a persistent factor in Roosevelt remembrance.
In that light, it would be very interesting to find out that Roosevelt at that particular moment in early 1933, when he did not yet want to express himself explicitly in political matters, because he was not yet inaugurated as president, had been triggered by media interest to embellish his stamp collection publicly and privately in order to enhance his autofabrication as a personal flesh-and-blood president. Of course, even if he did not start to seriously expand his collection at that time or for that reason, it was still a clever move to put it out in the media then, because it had a depoliticizing effect. It made him more human and simultaneously placed him outside the realm of partisan politics. This kind of depoliticization was obviously a political move in itself, but that is another issue. What I need to find out now is: when and how was Roosevelt's stamp collection accumulated? Did he do this (only) personally in his spare time, or was there White House staff involved? (and if so, how?) Whose idea was it to have Roosevelt pose for that famous photo? And is there any other evidence to back up Greg Laden's father's memory? Any takers?