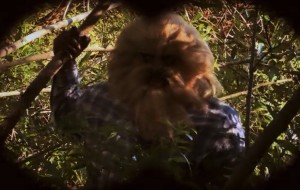 I like to believe I'm efficient. I don't keep a strict distance between my work and the rest of my life, which means I can work with a baby in my lap, and do household chores while mulling over a new idea for a blog post. I don't see my maternity leave as an opportunity to be especially productive workwise, but at the same time it would feel unnatural to stop thinking entirely about work for exactly 16 weeks. I'm sure some people do exactly that, but I'm sure they don't own their work in the way I (at least as a researcher) do. Which is not to say I am as productive as someone like Beatrice de Graaf during her maternity leave (if you speak Dutch and haven't seen last Sunday's Zomergasten yet, by all means do!). In particular, there was one deadline that I missed, because it was 3 days after I'd had a baby. It was a call for proposals that invited abstracts of possible chapters for an edited collection of essays about werewolves.
My chapter would, of course, have been centered around FDR American Badass! in which Roosevelt contracts the polio as a result of a werewolf bite. The werewolf then turns out to be a nazi – and conversely all nazis (including Japanese and Italians) turn out to be werewolves. What is interesting to me is the opposition between, on the one hand, the werewolf's culturally inherited loneliness, and on the other the fact that they turn out to be a massive group, looking for world power (by turning everyone into werewolves). Werewolfishness is, like polio (and like nazism?), highly contagious. And Roosevelt, in the film, singlehandedly and heroically, protects the world against that contagion (despite being a victim himself).
In the beginning of an abstract that I did write, I suggest that "While this film [FDR American Badass!] is obviously a caricature both of the Gothic werewolf narrative and of the history and American cultural memory of World War Two, it sheds interesting light on both." And while I might, now that I've missed this particular opportunity, end up never writing the essay in which I explore how that works, I still believe it would be an intriguing project.