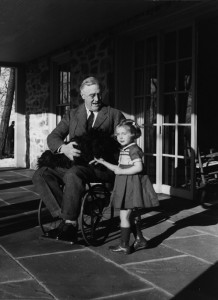 This is now a very famous and often used photo of FDR. In a wheelchair. It is the only photograph of him in a wheelchair, or at least, the only one that has been distributed widely. It was taken in 1941, an is clearly posed. The dog is Fala, the girl is called Ruthie Bie and was the granddaughter of Roosevelt's caretaker at Hyde Park. The location is the porch of his Top Cottage at Hyde Park. I don't know the photographer.
But stranger than that: I can't figure out when this photo became the iconic image it now is.
When (and how) did this become such an omnipresent image in the public domain?
Or, how might I find out? Any information, insights or strategies would be much welcomed!