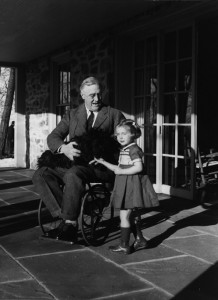 You probably remember me going on about this photo, trying to find out when it became a well-known and to some extent famous image. I haven't figured it out yet, but some of the responses I have received through this blog are great and extremely helpful in writing my "Prostethic Memory and the Dynamics of Disability" chapter (which is hard-going). I particularly want to share Henk Schonewille's contribution here. He initially responded:
In my opinion, this photo became famous in 1945 when, after FDR's death, the public found out that FDR was disabled.
Puzzled by the "in my opinion", I asked for sources underlying this conviction. And now comes the really great part:
Sorry Sara, but I can't give an exact answer to your questions. I searched my FDR library, but I don't have exact references to news clippings in 1945 about his disabledness.

I always wondered how the press and the public reacted in 1945 after FDR's Congressional speech about the Jalta conference, in which he almost for the first time in twenty years mentioned his disability in public.

I have some book references, but I do think you already know these books by heart:

FDR's Deadly Secret- Steven Lomazow: Chapter 14 – p. 187 : "From the moment FDR died, much of the White House press corps began to lift the tight censorship they had imposed on themselves. The same newspaper editions that reported FDR's death finally contained candid accounts of what those reporters who covered the president had all seen and heard. –ibid.- p. 188 reports about a front page story in the NYT the morning after FDR's death about the condition of the FDR's health. Ibid. p. 188 and 189: an editorial in the Saturday Evening Post of May 19, 1945 in which Garet Garett made a statement that the state of Mr. Roosevelt's health was a secret from millions of Americans….
Of course these articles are about FDR's health during his third and fourth term of office, but perhaps it also refers to FDR's disabledness?

Perhaps interesting to know is that Steven Lomazow currently has a (live)blog about this book. Perhaps he's willing to answer some of your questions: see: http://www.magazinehistory.blogspot.nl/

Contrary to Lomazow, Hugh Gregory Gallagher in his book: FDR's Splendid Deception (with the "iconic" photo of FDR and Ruthie Bie on the cover), p. 212 tells about the fact that the biographers of FDR continued the conspiracy with the public about the image of FDR as vigorous and physically fit.

The Wilson Quarterly of Summer 2005, has an editorial about FDR's Hidden Handicap.
See: http://www.wilsonquarterly.com/essays/fdrs-hidden-handicap

Some of your U.S. collegue scholars recently published articles and books about your subject. To mention a few: Ray Begovich, James Tobin (but of the early FDR polio years). Also Professor Lennard J. Davis, a well-known American specialist in disability studies, and the autor of works in a number of fields. see: http://www.lennarddavis.com/home.html). Again, perhaps they know the answer to these questions.

I would also like to point out an article, written by Matthew Pressman: "Ambivalent Accomplices: How the Press Handled FDR's Disability and How FDR Handled the Press," see: http://ideas.time.com/2013/07/12/the-myth-of-fdrs-secret-disability/

Last but not least, FDR Koning van Amerika – A. Lammers – p. 272: 2e alinea. In this book Lammers refers to the flow of publications about FDR after his death in april 1945.

Furthermore, I don't have evidence that the photo of Ruthie Bie was "around" in the media in 1945. I don't know if Ruthie Bie (now Ruth Bautista – Bie) is still alive. Maybe she can tell you when her photo was first published in a US-newspaper?

And of course, it's always a pleasure to (re)visit the Roosevelt Library in Hyde Park and find your answers there. Like FDR's quotation: "All that is within me cries out to go back to my home on the Hudson River".

Good luck with your thesis.
This detailed and knowledgeable reaction has been extremely helpful, even if it doesn't answer the question, and even if I did know most of the texts referred to.  It really helped me write this chapter. I had not yet come across the great article by Clausen in the Wilson Quarterly, and I had not thought about organizing the secondary material in the way Henk Schonewille proposes. The Lomazow book, for instance, focuses on FDR's death and I had not thought about consulting it for this, although a great deal that applies to FDR's treatment of his declining health in his last months of course also relates to his earlier treatment of his disability.
Moreover – no less importantly – it is extremely encouraging for me to hear that someone else shares my enthusiasm. I know many people do but I'm still always very happy to hear it, and grateful to the many of you who are taking an active interest in one way or another. Various people have let me know that the photo reminds them of Annie – many thanks also for sharing that. Not only do I have the same experience, but more importantly, it lends credibility to my strong conviction that the – tiny – role FDR (Edward Herrmann) plays in the 1982 musical film, strongly determined many people's mental image of Roosevelt, including the wheelchair.