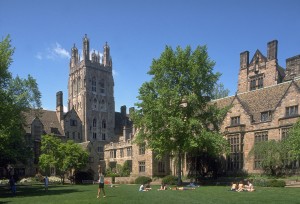 The next post will be about my research proper again. Promise.
Yesterday I discussed my chapter "Prosthetic Memory and the Dynamics of Disability" – about which I complained only days ago – with my advisor. He thought it was good. So in terms of writing my PhD I am now, for the first time since my youngest was born, back on schedule.
And the really exciting good news is that we are going to Yale (New Haven, Connecticut, USA) from September 2014 to February 2015! I have a Fulbright scholarship and Vincent and I are both going to do research at Yale. What with a baby and a toddler, all of this is a massive logistic operation, so this post is yet another plea for advice, for instance about the following:
Where in/near New Haven would be good to live? Do you know of concrete places on offer there, or how we might find such offers?
What in your experience is the best (affordable) childcare in New Haven?
Do we need a car there and how do we get one?
Do you know people living/working there who might be able to help us?
Have you got experience of going to the US (as a visiting researcher)(with a family)? What are things we should think of particularly?
Views, insights, tips, ideas – all very welcome!