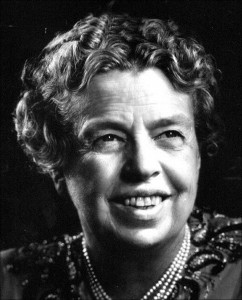 Some advertizing to start: have you already read my news about Yale? And have you seen the house in which we may live there?
But the real thing I wanted to write about is this: Eleanor Roosevelt's newspaper and magazine columns. The chapter of my thesis I have just started working on is about Eleanor, and although I already knew a bit about her, it's only now that I've started to systematically read her writings. FDR did not write much for publication in written media, but Eleanor wrote loads.  And it's really fun and illuminating to read. I would totally advise anyone to browse through her "If You Ask Me" pieces for the Ladies Home Journal and McCall's. In that, she answers questions from readers ranging from very personal to political ones. E.g:
Do you expect at any time in the future to run for political office, or allow yourself to be prevailed upon to do so? I most certainly do not.
What do you think of the proposed political and economic union of English-speaking peoples? I think the union of all free democracies, whether English-speaking or not, is much to be desired in the future. Without it, I see no prospect for eliminating war.
What are six of your favorite contemporary authors? What one of their books is your favorite? I have many more than six favorite contemporary authors, but among them are: Willa Cather—Death Comes for the Archbishop; Elizabeth Goudge—The City of Bells; David Grayson—Adventures in Understanding; Countee Cullen—The Black Christ; Harold Laski—Where Do We Go From Here?; Archibald MacLeish—The American Cause.
Bette Davis' pet economy is using the same bobby pins several years. What is yours? Saving string.
From your own observations, what do you consider the most successful of your husband's social reforms? Housing, which is fundamental to any reform program. In rural areas, the farm security program and rural electrification are important.
Apart from actual poverty, do you think couples should refrain from having children because they cannot give them "advantages"? Certainly not. I do feel that the most important thing for children is to have a home which can provide them with the necessities for healthful living, with love and an example of ethical living.
(July 1941)
I am presenting a paper about Eleanor Roosevelt at this conference in Cardiff next week, and, although I'm fairly confident I will bluff my way through my presentation, my preparations are continually thwarted by my addiction to reading Eleanor Roosevelt's articles.