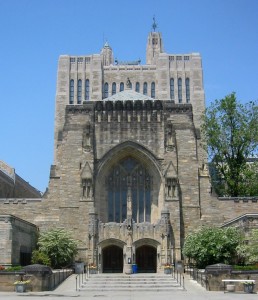 On Monday morning we set off from home, and now, at the end of the work week, we're pretty well settled in in New Haven. I'm sitting in a café opposite the Hall of Graduate Studies and imagine I'm impersonating a Yalee pretty convincingly.
We have made so extremely welcome here! The house is great in every way, it has lovely neighbors with three boys, one of which came to bring over just baked blueberry muffins yesterday afternoon, and we're having pizza with them tonight. We went along to the Yale-affiliated childcare center the kids will attend. The director showed us around and then emailed all the other parents to see who could lend us a crib for the one-year-old to save us a trip to Ikea. Everyone at Yale has been extremely welcoming (we attended the matriculation lunch with the kids and almost felt we would have been even more welcome had we had more than just the two kids in tow).
No doubt our demographics (Yale-connected, European, young family, obviously privileged, well-spoken & what have you) make a difference, but still: I doubt newcomers to the Netherlands are ever made so abundantly welcome. On the wall of this café I read a Bill Clinton quote: "There's nothing wrong with America that cannot be cured by what is right with America." and I'm almost inclined to believe that that is true. Almost. Because at the same time the gap between Yale-people and the rest of New Haven is painfully visible. When we drive from our house in beautiful Westville (surrounded by sustainable, vegetarian and lovely university people) to the Yale campus, we cross a bit of another world. I don't think it is a dangerous or even a particularly poor area and I doubt people are less happy there than in Westville, but it is so different. Very local – a kind of America you do not encounter in Europe. The homogenous cosmopolitanism of Yale makes me think I get this country, but really I think I understand something about how universities work. And they (or at least this one) really know the sort of things I need. Cool & humbling at the same time.