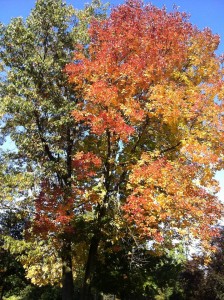 I am starting to receive admonishing messages saying that I didn't even have to take off from blogging for this long when I had Ilias, so why don't I keep it up now? So really quickly: I'm well and – surprise – busy. With work and with visitors: over October we've had to stay: my friend Isabelle and her 3-year-old son, my brother and his girlfriend, my parents-in-law (twice) and my sister-in-law. It was great, but not conducive to regular blogging. I'm a creature of habit and like things  normal, so to celebrate that everything is now back to normal, I'm off to a huge conference of the American Studies Association (#2014ASA) in Los Angeles (!) today.
I'm both giddily looking forward and somewhat tense about the undertaking, because I'll be meeting lots of great people (including Emily Rosenberg at UC Irvine, author of A Date Which Will Live, Pearl Harbor in American Memory – a model for my own book, and Fulbright colleague Caglar Koseoglu at CalArts, both of whom I really admire, though in very different ways). And tense about not seeing the kids for four days (first time for Ilias) and about flying that far, and then renting a car and driving all by myself through LA.
Workwise, I am really deeply engaged in an article I am hoping to write about my theoretical take on self-fashioning, image-making and memory-making. Of course in that piece as elsewhere FDR will be my case study, but in a way it is rather far removed from him and more towards general theories of what I call autofabrication. It involves difficult theoretical texts by French cultural philosophers like Michel de Certeau and Roger Chartier. I am really grappling with it, and imagine I will reemerge at some point, but not enough yet to explain it all here. Which is not a bad thing, because just now I have a plane to catch to somewhere lush and summery. But I'll be back, hopefully in time to catch the last of the truly beautiful New England fall.