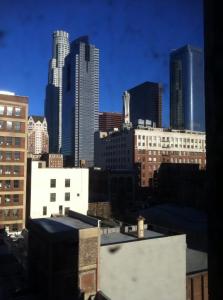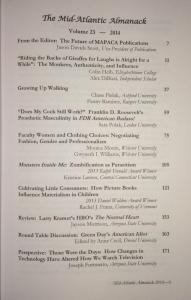 These photos refer to the two highlights of last week. 1) I was at the American Studies Association's conference in LA (the picture is te view from my AirBnB appartment) and 2) Simultaneously in Baltimore the Mid-Altantic Popular American Culture Association held its annual meeting, at which its journal The Mid-Atlantic Almanack appeared, with my article "Does My Cock Still Work? Franklin D. Roosevelt's Prosthetic Masculinity in FDR American Badass!" The image you see is a photo of the title page, I don't have the hardcopy, or even the digital journal yet, however, I have blogged about the topic here, and I will let you know once I have the article in full-text.
But back to Los Angeles, where the weather was characteristically lovely, which was nice, even if I spent most of my time in the Westin Bonaventure hotel, one of those humongously massive hotels you can stay in without ever having to leave the building (at least as long as your creditcard is working), because anything you might want to consume can be bought on the premises. I have only ever seen this kind of hotel in the States and they present a depressing picture of capitalism. In fact Frederic Jameson, one of the big theorists of postmodernism wrote his essay on late capitalism and postmodernism while attending a conference at this hotel, and also wrote about it, which made it all rather funny.
The conference itself was really great. It struck me how activist all the participants and the general atmosphere were. Not just keenly aware of the ideologically charged constructedness of cultural phenomena, but also engaged in emancipating underrepresented groups. There was, for example, a gender-neutral toilet, and when it emerged that there was no good place to breastfeed or pump, lots of people, most of whom didn't breastfeed (or even have breasts), joined in general indignation, and one was set up in a matter of hours. Lucky me.
I went to several panels that were more or less far removed from my own field (and some that were closer to home for me), but it almost didn't seem to matter. There were many very good speakers, like Libby Anker, Kristin Ann Hass and Angela Smith, and also many non-classical sessions, like one in which PhD candidates could practice their elevator pitch on advanced researchers, and a panel at which 15 or so people presented – in 3 minutes each – their Digital Humanities projects. I presented there too, not because I have a digital humanities project, but because I am thinking of starting one, and wanted to crowdsource. If you're interested in reading more about this, you can access the previous, password-protected post using the password #2014ASA – and let me know if you have ideas!
I also spent one evening at an event of the California Institute of the Arts, where a friend of mine from Leiden is currently doing an MA program, also on a Fulbright scholarship. It was a somewhat odd, but very nice evening. Odd, because there were various artists who discussed their work to a group of academic art critics, mostly in cultural analysis, who were generally rather more articulate about the artwork than the artists themselves. Understandably, I suppose, but also a bit awkward sometimes. I did not, as I had hoped, get to meet Emily Rosenberg, but it was nonetheless a very inspiring and fulfilling trip.