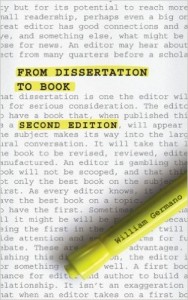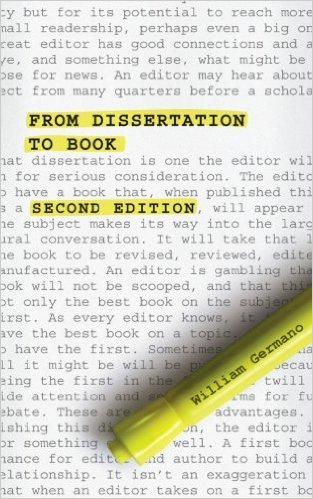 Only a few blog posts since I left New Haven, and I am back. I have always loved New Haven, but now that I have submitted my dissertation, it's even better. One major thing that finishing the dissertation has given back to me, is the ability to read for pleasure. The best so far has been Chimamanda Ngozi Adichie's Americanah – read that book, even if you are still working on a dissertation, it's easy, brilliant, and has a great opening sentence involving New Haven.
I also read a work-related book: William Germano's From Dissertation to Book (Chicago UP, 2nd ed., 2013). The title is the best thing about it, which sounds like a mean thing to say, but I think Germano would agree that it's not. The advice he gives in it – including about the importance of titles – is very good, and he practices what he preaches: be as clear as you can, make sure your book has a strong narrative voice and a 'throughline', make your book do something, don't overuse passives/footnotes/semicolons. It makes me want to revise my dissertation straightaway.
On the other hand, again not necessarily negative, I also found it annoying. It has a remarkably low regard for the quality of the writing in dissertations. Are they seriously as bad as he suggests? My dissertation does not have hundreds upon hundreds of footnotes, or a dreaded "Review of the Literature" chapter, only a handful of semicolons, and not a single responsibility-dodging passive. This is not to say my dissertation is a perfect book manuscript, but rather that I found few of the revelations in From Dissertation to Book as novel and eye-opening as the narrative voice seems to assume. This assumption that recent or soon-to-be PhDs are oblivious about writing style makes the book sound patronizing, and thus made me childishly relish slip-ups like: "You're shaping your writing happens every time you put a sentence down" (91) – I'm not a native speaker of English, but is this extremely colloquial or just incorrect? In a book about editing and revising! Ha! [Okay, go ahead and point out the twenty embarrassing mistakes in this blog post, I bet they're there.]
And then a final point of annoyance – of the kind that I actually find irritating: Germano consistently speaks of writers keen to turn their dissertation into a book as female – and deeply insecure, paranoid, obfuscating, and what-have-you – or in one case determinedly ungendered ("Pat, the new PhD whose unrevised dissertation has just been rejected by a publisher, isn't doing anything Pat hasn't been led to believe is right.", 17). Okay, I get it, this is an elderly white guy of the kind that gets to decide what is important and who will be heard, but he is politically correct about it. But then near the end, when he becomes all bleary-eyed and visionary about scholarship – which in itself is great, especially since so much one reads about this is downright cynical – "the rare scholar" who will be heard is suddenly male ("He writes as if he believes that the act of communication is crucial to his work.", 151). Loaded issue, William Germano, maybe something for the third edition.