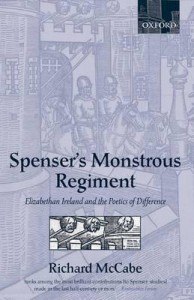 Yesterday (Monday) was the day I wrote the piece I had been putting off actually writing all of last week. But after I had laid that Easter egg, I had no energy left to write about Autofabrication. Although I did have news about it, bad news and rather ironic in the light of what I said lately about never claiming someone is the first at something. Turns out this is also true for oneself: I am not the first to think about autofabrication – it already exists, in pretty much the same sense as I use it. Apparently it was introduced by Richard McCabe in a book about Spenser – I haven't yet been able to figure it out precisely (maybe this one?). But in any case, it is not my coinage, which is a pity but not a problem. Indeed, one could even argue that the fact that it already exists, confirms my intuition that it is a concept we need. In any case, many thanks to Jacqueline Hylkema, who brought this to my attention! This is how one hopes the Academic Community works.
It is also how I hope that this blog will work – indeed, will continue to work – as a means for me to talk informally about my research, and as a way of inviting feedback on the content and process of what I do. One concrete question I have in this respect is: how do you get people to read your blog? (This is after all New Media Day.) Why are you reading this now, and what would make you stop reading? How do you find out about a blog's existence? How can I (and how shouldn't I) use media like Twitter and Facebook to address people's attention to it? And who should it be for, really? I almost start to feel like I need a marketing plan and a social media policy, when what I want to do actually seems simple: talk about my work to whoever is interested.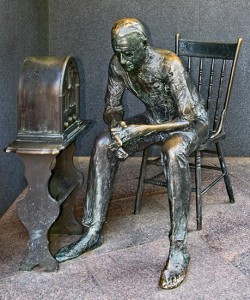 FDR was very good at this – especially at quickly getting how to use newly available media. I have already talked about the fact that he had a radio style; this went further than adjusting his tone and manner to the fact that he was speaking to people by their fireside (or its substitute, the radio). He also had a fake tooth specifically for his radio performances, because he tended to whistle between his teeth when speaking through a microphone. Also, he tried to turn radio into a more social medium, by explicitly inviting listeners to write to him in response. As a result he received a massive amount of mail, which he could, in the early days of opinion polling, use to get a sense of the public opinion. It is striking how well Roosevelt used a new medium (radio) in a particularly modern way, by combining it with a very old one (letters). But although it is a great example, I wonder if it translates well to the twenty-first century. Maybe you could write me your views.