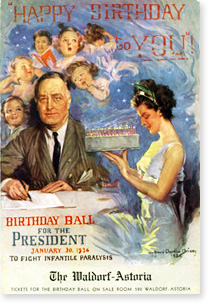 On the occasion of my birthday, half a year ago, a friend found this picture for me. It is the program of the 1936 Birthday Ball for the President To Fight Infantile Paralysis. I find it very intriguing and am wondering how you guys (that is, all my artist/art historian/designer/literature-loving/visual culture minded friends, acquaintances and non-acquaintances) would "read" this picture. I'm baffled by it. Roosevelt is sitting at a dining table which looks set for a luxurious (ball?) dinner, but he is writing and does not look to be dressed for a party. An angelic looking woman serves him a birthday cake with (presumably) 54 lights, but he doesn't see it because he is looking at us. His head is surrounded by girl child angels in pink dresses. Everyone only has an upper body.
How on earth should we interpret this? I only know a little bit about the historical background. Roosevelt was paralyzed from the waist down, as a result of having had polio in 1921. He was generally careful not to let his disability get too much in the public view, but also did not deny that he had had polio. He could "walk" short distances (for instance to the rostrum at the beginning of a speech), aided by a walking stick and someone's arm. In the 1920s he had found relief in the natural warm pools at Warm Springs (Georgia), and had started to turn it into a clinic for treatment of polio paralytics – this initiative was successful and in the early 1930s it was expanded by FDR ally Henry Doherty to a much larger campaign. The birthday balls (the first of which was held in 1934) were a held as a fundraising campaign to finance polio research and treatment. Birthday Balls to fight infantile paralysis were held throughout the country.
So what do we make of this strange picture? How does it portray FDR? What does it suggest about his own relationship to infantile paralysis? What are those angels doing there? Why is FDR working during a ball in his honour? Suggestions very welcome!