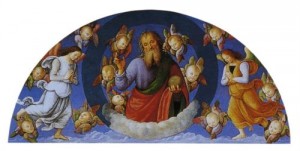 First, briefly, in response to my request yesterday for help with reading the puzzling picture below, my colleague Janna Houwen  brought this Polyptych of St. Peter by Pietry Perugino to my attention. Viewed in that context – the sacred blue background, the cherubs – or are they putti? – the angelic (female?) figures to the sides – it does indeed look as though FDR is portrayed as a kind of modern St. Peter. Which to my mind makes it only more perplexing, really.
But today is memory day, and this week is actually an important week in terms of Roosevelt remembrance, since the 68th anniversary of his death is this coming Saturday. Which gives me the chance to introduce a theoretical distinction I make between cultural memory on the one hand and remembrance on the other. I previously discussed the distinction between self-fashioning and autofabrication, and essentially I argue that a similar kind of distinction should be made with regard to memory. Cultural memory is the communcative (collective) memory (groups in) society create, according to their needs at a particular moment in time. For example, in the 1990s, when the scandal surrounding Bill Clinton's extramarital affairs emerged, there was a sudden increase in interest in Roosevelt's extramarital affair with Lucy Mercer. Not something FDR himself would probably have wished to be publized, but it happened because of cultural and political developments in the 1990s.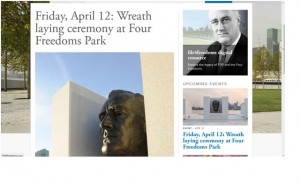 Remembrance, conversely, is a process that can be steered, arguably even beyond the grave. The Four Freedoms Park, built and administered by the Franklin and Eleanor Roosevelt Institute for example organizes a wreath laying ceremony to remember the 68th anniversary of his death. The Roosevelt Institute is as its website states "devoted to carrying forward the legacy and values of Franklin and Eleanor Roosevelt", and "works in the spirit of Franklin and Eleanor Roosevelt". It was founded by friends of Roosevelt's, and one of its units is the FDR Library, which Roosevelt himself set up. The chair of the Board of Directors is Roosevelt's granddaughter Anna Eleanor Roosevelt. I see this body, which is explicitly committed to celebrating Roosevelt, as a direct product of his autofabrication. With events like the wreath laying ceremony, it actively reinforces and ritualizes his remembrance. Thus, although such a celebration would of course not want to draw attention to its fabricating streak, it helps to celebrate and affirm Roosevelt's place in American cultural memory. Come, let us adore him!