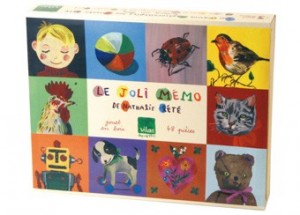 This illustration is a bit of a sham. It has nothing to do with memory studies, except that it is the memory game that my nearly-two-year-old currently loves (obviously without being able to play according to the proper rules, but we've made him believe the boy in the left top corner is him). This post has nothing to do with that, but so far I've only posted writings with an illustration and I didn't want to break that tradition.
Anyway – one great and interesting reaction I received to the previous post is this email below from Prof. dr. Ann Rigney (who organized the Memory with(out) Borders conference I attended last week):
Dear Sara,

I'm glad you enjoyed Memory with(out) borders. Your blog gets it right as far as moving beyond the nation as a framework for studying memory is concerned, but is a little off mark regarding the Holocaust. You're absolutely right: dealing with the Holocaust was an important factor in the development of contemporary memory cultures and memory studies. But it was not in itself behind our desire to move 'beyond methodological nationalism'. That came from the changing place of the nation and the growing importance of global interdependence, migration and media flows. Within that framework the Holocaust then reappears as a key memory site that provides a point of reference in many different discourses across the globe.

Good luck with your blog (am pleased to feature in it!) and, of course, een goede bevalling!

Gr, Ann
I see the point: my previous post may suggest that NITMES moves away from the nation state as framework for studying memory in order to deal with the Holocaust in a transnational context. It is not (and I didn't think it was), but, as Ann Rigney also says, in this transnational context, the Holocaust reappears as a key memory site.
The question remains why that is. I'm intuitively inclined to think it is a European thing – the Holocaust is a shared (and of course contested) memory site across Europe, rising beyond individual countries. On the other hand, even if the Holocaust is perhaps less of a key memory site in American cultural remembrance of World War Two (is it?), it is anything but absent from American memory studies (see for instance the work of Jay Winter, Marianne Hirsch, Michael Rothberg).
Where and how does the Holocaust remain such a key memory site? (in national/transnational culture? in Europe/America/elsewhere? in popular culture/academic scholarship on memory?). Once again: views are more than welcome!
And by way of disclaimer: this question might suggest that I don't think it is a good thing that the Holocaust remains so present, but that is not the case. I actually think it is a very good thing. Prof. Barbara Tornquist-Plewa's presentation about how entirely forgotten the Holocaust is in former Jewish shtetls in Poland once again brought home to me how utterly successful the Holocaust has been in some places, if it has managed not only to murder all Jews there, but also erase the memory of their existence.