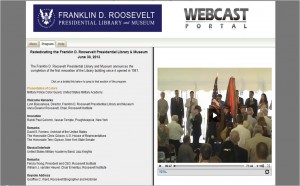 Last Sunday, June 30th, saw the Re-dedication of the Franklin D. Roosevelt Presidential Library and Museum, 72 years after Roosevelt's own dedication of the library to the American public.
The site of the FDR Library at Hyde Park, New York (upstate in the Hudson Valley, near Poughkeepsie) is a sometimes puzzling compound of heritage monuments and tourist attractions: originally the site was called Springwood, and it was the Roosevelt's family mansion, owned until her death in September 1941, by Franklin's mother Sara Delano Roosevelt. The FDR Library was the first part of the large estate that became accessible to the public on June 30, 1941, against her wishes, when FDR opened the first ever presidential library.
Roosevelt had designed the building himself and it was erected on the Springwood estate, funded privately by himself and friends. He went out of his way to present the library and museum as a gift to Americans and to obtain the backing of eminent historians in his claim that a presidential library was a necessary addition to American preservation of its own past. Although there was of course also criticism at the plan (that it was megalomaniac, essentially a monument to himself, that the taxpayer would be forced to pay for the 'gift' after its dedication etc.), he was successful in conveying the basic idea that a presidential collection should remain together: every president since has left a presidential library and museum – the George W. Bush Library was recently opened.
In the years since, many Roosevelt-related attractions, monuments and heritage sites have been added, so that by now it is almost a Roosevelt theme park. Key sites are the Roosevelt Home, with guided tours by National Park Service Rangers, the graves of Franklin and Eleanor and their dog Fala, Eleanor's cottage Val Kill and Franklin's Top Cottage. Access to these elements of the larger site is coordinated from the Henry Wallace Visitor's Center, where all tours start – mostly with a viewing the 22-minute documentary film A Rendezvous with History – The Roosevelts of Hyde Park.
I don't know how precisely the Library and Museum have been renovated (a good reason to go again soon!), but what is in any case still very intriguing about the site as a whole, is its somewhat confusing combination of education, entertainment, politics, and the personal and public remembrance of cultural and political Roosevelt heritage.