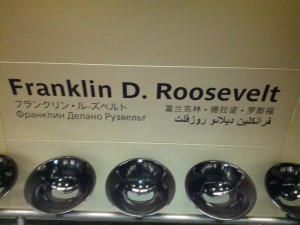 I haven't actually (this week, or ever) been to the Parisian FDR tube station in this picture, but a student took it for me (in case you read this, Jan, thanks! It's much appreciated!), and I was in Paris this week in connection with my FDR research.
This week  was eventful, workwise, especially for someone technically on maternity leave. It started when a week ago I found out that my paper proposal for the MAPACA (Mid-Atlantic Popular American Culture Association, I believe) conference in November had been accepted (yay!), I decided it would be a good plan to contact previously mentioned war and remembrance guru Jay Winter. The idea was, that if I'd go to the US in November anyway, I might try to meet him there too – but he (pretty much instantly) emailed back that he was in Paris just now and would I meet him there in the coming week or two. I emailed back that I was pregnant and nearly due, so it would have to be soon. He suggested Wednesday & the rest is history. We had lunch at his favorite Sardinian restaurant, which was indeed great, and talked a lot about why remembrance is a better word than memory, and whether, to use the Assmanns' terms, FDR is currently at the point of becoming cultural, rather than communicative, memory. One thing that was great about our conversation was that Winter knows the history of the plethora of memory-related terms and vocabulary (mostly I suppose because he was there when the terms were coined), and could therefore clarify things that have always been unclear to me about them. It was also just lovely to be in Paris for the day – one should do such things more often.
But now I've skipped Monday and Tuesday, which were also busy days, mainly because former UvA colleague Paul Knevel and I are proposing a panel for the National Council on Public History conference in Monterey in March 2014. The idea of our panel is mainly to contextualize historically and transnationally the American concept of the Presidential Library (invented by FDR in1941). Paul and I have previously worked together, so I knew it would be great, and it really was. I'm not generally terribly good at writing together with someone, but in his case it just always works really well and easily. It's hard to say why, partly perhaps because he's extremely encouraging, but that is actually by no means always the way to my heart. Anyway, we devised a plan and now have to hand it in quickly, and hope it gets accepted.
All in all a successful week. But to end on a less self-congratulatory note: on Tuesday afternoon I got the news that my paper for the American Journalism Historians Association conference had been rejected, including the anonymous peer reviewers' reports. I know that I've previously complained here and elsewhere that it is annoying to always get rejected without any feedback (other than that "there were many strong papers…" etc.), but actually to hear very precisely what is wrong with your paper I now also found strangely painful, especially because I largely agreed with the reviewers. Some of their criticism was downright embarrassing (stupid mistakes with dates etc.), to the point that I would want to apologize to them; other points – the more serious ones – I have to think more about. In that sense it is true that it's very useful to receive such reports. And it is great to note that they've read my work so carefully – even if it also makes me feel all the more sorry that it wasn't good enough.