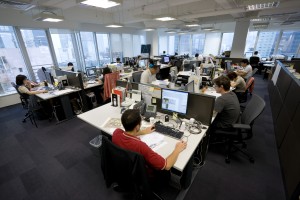 I have the unhelpful habit to reflect on Friday evenings that I haven't done enough work in the past week. I don't seriously believe this – it's rather that, when walking uphill you constantly see how much climbing there still is ahead of you, and you don't always pause to see how far you've come.
This week is no different, except for a pattern I'm seeing, not new, but not so old either. Basically it is, that the front office of my project is doing really well, and the back office is lagging behind. Of course, both these offices are staffed by me – indeed they only exist in my head – and they are nourishing as well as feeding on each other. The back office does the thinking and writes my PhD dissertation – the actual work – whereas the front office is in constant conversation with the world around it. It makes my work visible, jumps at opportunities to present it, it keeps my blog and is excited when the number of page-views increase and people tweet about it. This weeks' successes of the front office include:
The invitation – my first ever – to give a keynote lecture at the mini-conference on Legal Bodies, as part of the Cultuur?Barbaar! festival in Leiden on 22/23 February. The FO will be in touch about the details soon!
An article about my research in the Dutch semi-academic magazine Geschiedenis Magazine (formerly: Spiegel Historiael), to be published later this year – stay tuned, the FO will advertise it.
Inclusion in the illustrious ranks of speakers for Kennis op Straat – a project of De Jonge Akademie to make lectures by academics available to a large audience. (I don't think my offerings are on the website yet, but the FO will let you know).
The application for, and – probably – award of a study trip grant of the Leiden Universiteits Fonds in aid of my Yale plans. Details to be posted here once more information is available.
A paper proposal to the Cultural Politics of Memory Conference to be held in Cardiff in May.
Travel arrangements for the NCPH-conference in Monterey (California, near SF) at which I will present at in March – complex because my youngest is coming along (and I have a babysitter there – thanks to Alice van Harten!)
The back office is keeping up, in the sense of: still able to deliver on the gold mountains the front office is promising the world. But it falls behind on writing the PhD, which is its primary task, and also, well, the actual work. It's definitely inspired, nourished and made to feel important as a result of the front office's relentless acquisition, but it needs TIME. And focus. And no email, social media, or kids. So, if there are less blogposts from me in the next few weeks, please attribute it to the BO successfully reclaiming some of its clout. And if I do keep posting, assume that it is entirely because the FO is helping the BO to brainstorm. After all, the winners get to write the history books.