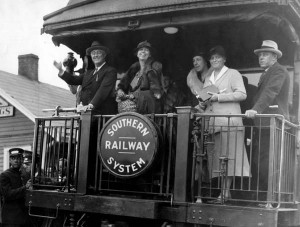 It's been a while since I wrote about FDR, which of course is odd for a blog that purports to be about his remembrance. But the other day, someone addressed my attention to the many photos of FDR in a vehicle. If you want to be remembered by later generations, one strategy is to make yourself relatable for future society by aligning yourself with whatever is very modern in your own time, for instance airplanes. If they become normal, you'll still be recognizably modern in the eyes of the future. That seems to have been a strategy FDR followed: there are very many photos of him on a train or airplane, or in a car, which are often still invoked at testament to his modernity.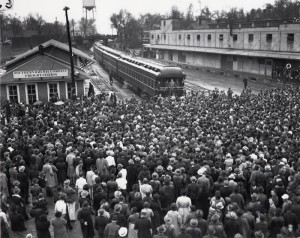 But there are also practical reasons for his appearing in or on means of transportation so often. Most such photos were taken when Roosevelt was on the campaign trail, which meant he had to travel constantly. Stopping his train and delivering a speech from the balcony was efficient, especially given how much hassle and lifting would have been involved for him to get off. And his (physically very able) uncle Theodore (US-president 1901-1909) did it too, so that speaking from a train for FDR was not only practical yet dynamic-looking, but also in a sense traditional – a way of treading in his uncle's footsteps. Theodore also appeared in a car at times, but never, as far as I know, at the wheel. I would speculate that he saw trains and cars as portable bully pulpits, whereas for Franklin it was a way of literally as well as metaphorically appearing at the wheel, in charge of steering, not just a car, but the nation itself also.
The photos of FDR in or with a plane associate him with technical progress on the one hand and military prowess on the other. And in almost every single case, the vehicle provides him with a natural way of appearing mobile and dynamic, drawing attention away from his paralysis.