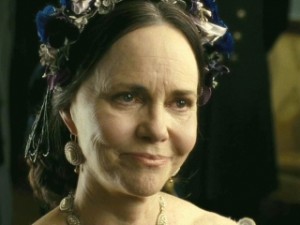 In previous blogposts I have discussed the two Franklin Roosevelt films that came out in 2012 (Hyde Park on Hudson and FDR American Badass!), but that year also saw two Abraham Lincoln movies: the Lincoln (Steven Spielberg, starring Daniel Day Lewis, who won the Oscar award for Best Actor), and the quirky Abraham Lincoln Vampire Hunter (Benjamin Walker). In both films, the protagonist's wife Mary Todd Lincoln has an important role, not only as the president's wife and key figure in his private life, but as a politically influential agent in her own right. This is surprising – officially of course the First Lady does not have political power derived from her husband's high office, and Mary Lincoln was hardly actively engaged in politics.
In my Eleanor Roosevelt chapter, I think I will argue – among other things – that this way of portraying Mary Lincoln as a politically savvy figure engaged in her husbands business has become culturally possible, indeed desirable, as a result of Eleanor Roosevelt's activism as First Lady. I think the memory of Eleanor Roosevelt's social and political engagement has not only transformed the role of First Lady for later presidential wives, as various people have argued (e.g. Maurine Beasley in Eleanor Roosevelt, Transformative First Lady, 2010), but also the interpretation and representation of previous first ladies, including Mary Todd Lincoln. She has, in both these films, been portrayed as if she prefigured Eleanor Roosevelt – intelligently interested and in lively discussion of politics with her husband, as well as publicly speaking out about political issues. Recent cinematic portrayals of Mary Todd Lincoln seem to have been  influenced by a modern perception and appreciation of Eleanor Roosevelt's interpretation of the role of first lady.
I haven't really found my angle yet, but if you have seen any of these films, would you agree? What kind of evidence or argument would convince you of this claim? Please let me know!