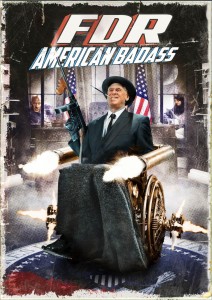 A while ago I blogged a couple of times about FDR American Badass! (here, here and here for instance) because I was thinking about it a great deal. Following those blogposts, I've presented my thoughts about it in various contexts (Spui25, Jusmenacu 2013, the University of Amsterdam's American Culture Seminar – thanks everybody, for your great feedback!!) and have been working on an article about this film and FDR as a popular but problematic icon embodying American masculinity. Now it looks as though that paper will be published in a real academic peer-reviewed journal. This is important for me, for all sorts of cv and academic recognition-type reasons, but also strange. I'm going to put some finishing touches on it in the coming two weeks, and then I'll probably let it go and look for new things to think about. That's good and right and as it should be (after all, this is a very intriguing and in some ways culturally revealing movie I think, but it's also obscure). But there is much more to say about it than I have so far!
One thing I really like about blogging is that there is no definite end to thinking about something on a blog. Of course the same is supposed to be true of the academic debate in general, but my sense is that that debate is more of a real discussion online than in proper journals. However proper they are, and however good it is to also come to a finite ending with something. I am torn about the issue. Saying "this is the very best I can do, please peer review, edit and print this and let others judge it" has an addd value to blogging about something endlessly without ever committing to a final product. But saying that also means ending a development in insight that actually doesn't and shouldn't end.
It is in this context that I don't really get the current (at least in the Netherlands) debate about "self-plagiarism" (self-quotation is a more accurate and less normative word). My paper definitely contains phrases and probably sentences I have used previously on this blog. Things I have written here and that staid with me and seemed to hold water have made it into the article, unlike the rest. I would say self-quotation is crucial to the creative process. Actually, the part that I find at times embarrassing, is precisely the extent to which the eventual product deviates from what I have previously claimed here. But I don't even know yet whether I'll be able to make the article available here so perhaps (hopefully…) you'll never find out.