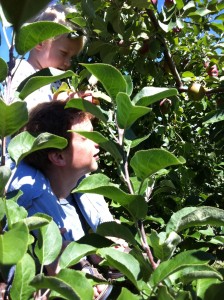 So we now have a basic rhythm. This is very important  with young children, in a new situation even more so. Being a toddler and getting used to life here, starting to go to childcare/preschool, hearing and learning to speak English etc. are hard work enough in a regular-as-clockwork life. Any deviations from the basic schedule are additional challenges in a situation that is challenging anyway. Sacred times of the day for us as a family are mornings between 7:00-8:30, and evenings between 18:00 and 20:00. We cannot really do anything else unless we spend those times all together doing the basics in their precise order.
On the other hand, there is of course an immense amount of cool things going on at Yale all the time. I think I could easily attend a paper presentation, colloquium or panel discussion preceded or followed by a reception and/or dinner at Yale literally every weekday. Such events happen between 17:00 and 21:00 – and they are usually really worth going to. I went to a great one last Wednesday. Vincent and the kids ended up picking me up by car around 21:00, unplanned, because no-one was going to go to sleep anyway.
There are also lots of family events, like the barbecue I posted a photo of recently (also between 17:00 and 20:00), some organized by the preschool. And there are other things we would like to do that deviate from a rigid basic program, like explore New England and have dinner with newly made friends here. Such things all obviously break the routine toddlers need. To make matters worse, we don't have that many basic routines here yet. Shopping for the whole week on Saturday morning – which we do here as at home – is still a rather unsettling and open-ended expedition here, never mind whether you are 3 or 33.
The result is that we find ourselves inventing lots of new routines here – good American ones like take-out pizza on Fridays and walking to the nearby ice cream shop after dinner on Saturday, picking fruit on Sunday mornings (see photo). We try to all be home at the sacred hours, and we have found a Dutch babysitter here to enable us to sometimes go away after 20:00. And the children are being incredibly good. They're probably used to a lot of unusualness, and actually seem to bear up pretty well.