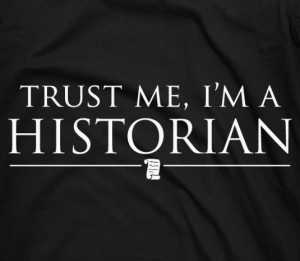 Most people believe history is my discipline. I think this may be a result of my elevator pitch, which usually includes "Franklin Roosevelt", who is obviously a historical figure. The one time I was on tv I had a really hard time avoiding being called a historian in the national media, and overall there is a persistent sense among people who have to introduce me that I am a historian. I do not think so. I have taught in the history department at the University of Amsterdam, am affiliated to the history department here at Yale, and am interested in close-reading historical sources, events and people. But I was not trained as a historian, and I think my methods and aims are fundamentally different from "real" historians, like, incidentally, both my parents.
I am not super interested in finding sources to prove what precisely happened in a particular historical situation. I do not in the first place look for archival evidence to back up an interpretation of the past that does it justice, although I see that that really needs to be done as well. Rather I read historical documents, events and people as literature. More specifically, one might even argue that I read all forms of memory-making (including historiography and historians) as literature. Historians are far more aware than most people of their own positionality and the vantage point from which they are selecting what is important to remember – "history is written by the victors" is a stale cliché especially among historians – but it is still that positionality that intrigues me, rather than the honestly, and no doubt often successfully, attempted objective accounts of the past that true historians are looking for. What about the past do "we" consider relevant now and why? Who are "we"? What linguistic and visual rhetoric is employed in narrating the past? What ideologies underlie those narratives, and what ideologies do they in turn support?
This discussion of course takes place within the historical discipline as well, but there it is usually limited to the projects, theories and methods of (professional) historians and historiography. I am, however, interested in all remembering, all interpretation and invocation of the past, also outside of academic history and even outside of what is commonly called "public history" (museums, archives, historical education etc.). All this remembering obviously differs widely in character, purpose and quality, and historians form one category within this. Viz-a-viz Franklin Roosevelt a number of categories of storytellers narrating his stories all with different aims and strategies, are, for instance, academic historians, documentary makers, historical fiction writers, and very importantly: FDR himself, and the later self-declared representatives of his legacies and ideals.
So perhaps I am a historian after all, but if so, I'd be a public historian. Not in the sense of a historian doing history in a museum, archive, or civic engagement project (although I have done the latter too and sometimes think I should go back to it), but someone researching a radically inclusive range of memory-making processes from a literary theoretical, sociological and political perspective.