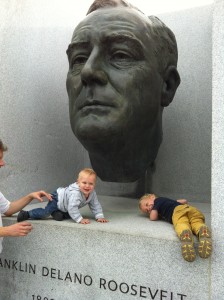 We've been way too busy to discuss all of last week, so I'll limit myself to the 24 hours from Saturday night until Sunday evening. On Saturday night we had dinner with Jay Winter, my faculty sponsor (i.e. the person who supported my coming here), at his house in Guilford. Jay had also invited Pierre Purseigle, one of his postdocs, and Helmut Konrad, an Austrian visiting professor and another friend of his whom I had not met before. We had had a hard time deciding about whether or not to bring the kids. Our Dutch babysitter was not available, bringing then would probably be okay too – they would have been most welcome -, but it's hard with a one-year-old and a three-year-old around to have any kind of conversation. In the end our lovely neighbors, who have three sons of their own so probably know this business better than we do, offered to watch them, which worked out really well. We had a great evening, with really interesting people, great food, in a beautiful house – a perfect way to spend my last hours of being 32.
The next morning we did what I had wanted to do for ages: go to New York City. We met some friends there who are visiting professors at Princeton right now (what a lucky coincidence!), and their three-year-old son. We went to a playground and then for lunch, and then to the most exciting part: the recently (well, almost 2 years ago…) finished Four Freedoms Memorial on Roosevelt Island. It's a very intriguing FDR memorial, which I had already seen in 2010 when it was only half-built. It's the last design by Louis Kahn that has now been built (not by him personally, he died 40 years ago) and it is a very beautiful and abstract memorial. It's on the southern tip of Roosevelt Island (a tiny island east of Manhattan) and most of the memorial is somewhat park-like. At the very end is an "outdoor room" with a massive bust of FDR and an excerpt from his Four Freedom speech ("The first is freedom of speech and expression—everywhere in the world. The second is freedom of every person to worship God in his own way—everywhere in the world. The third is freedom from want (…) —everywhere in the world. The fourth is freedom from fear— (…) anywhere in the world. That is no vision of a distant millennium. It is a definite basis for a kind of world attainable in our own time and generation." January 6, 1941). It points more or less towards the headquarters of the United Nations – FDR's great vision, which he didn't live to see fulfilled, but in which Eleanor Roosevelt of course did play a key role.
Anyway, I immediately had lots of interesting work-related thoughts about the memorial, but in practice we played around there for a bit with the kids, took some photos and then went back to Manhattan with the Roosevelt Island cable car – literally and otherwise a highpoint for the kids. Then we went back to the car – the kids were actually already asleep before we even got there – and drove home which took FOREVER. All in all, it was a great day, but also one of those days that was in a way really too busy and too eventful  (especially in combination with the night before). We did all I had hoped to do, and I loved it, but it was a bit much of a good thing, especially for the kids. They were doing great throughout though, and so now they know FDR in extreme close-up.