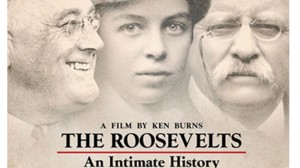 One event I had been looking forward to for a long time was the broadcasting of Ken Burns' 14-hour documentary The Roosevelts, An Intimate History (PBS). It was on national television throughout last week, 2 hours per evening, starting at 20:00. This is the last piece of primary material I will include in my dissertation. Because it was broadcast at prime time, most people I meet here have seen at least part of it, so since it started on September 14th, whenever I tell people what my research is about, this documentary invariably comes up in conversation.
Ken Burns is probably the best known maker of mainstream historical documentaries in the US at the moment. Some other of his biggest and most famous documentary series are The Civil War (1990), Baseball (1994), Jazz (2001), The War (2007) and The National Parks: America's Best Idea (2009). And now The Roosevelts. To me, the mere fact that the Roosevelts are part of Burns' seletion of great American themes is interesting in itself. Moreover, in telling the stories of the Roosevelts, this documentary clearly aims at providing a keyhole perspective on the first half of the twentieth century in America in a broader sense. The three Roosevelts embody the country in that period both as individuals representing that period, and as personifications of it.
I watched the documentary mostly to see how the story is told:  what stories are told? Which ones are left out? What are the documentary's central claims? How do its form and rhetoric bring home those claims? And so on. One thing that struck me immediately is how often very well-known popular tunes are used as extradiegetic music (i.e. background music) with a clear subliminal political message. For instance, I heard, Yankee Doodle, Auld Lang Syne, The Battle Hymn of the Republic and God Save the Queen. The last – the British national anthem – for instance, played in a minor key, while the narrator and the visual material (photos), told the story of Britain's near defeat in 1940, and the United States' (Roosevelt's) crucial Lend Lease program. Of course the minor key was fitting at that moment in the narrative because of the German attack, but that same historical moment enabled America to overtake Great Britain in terms of world power. This last element is arguably even more clearly present in American cultural memory and definitely in The Roosevelts, so that playing the British national anthem in a subdued musical register actually takes on a somewhat sardonic tone. Such notes of American triumphalism are not overtly present in the explicit narration, but very clearly there in the music.