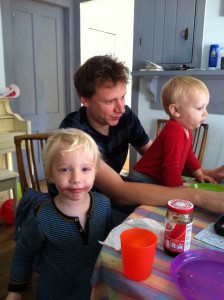 After deciding that last week had been somewhat busy, and seeing that October is going to be super busy, we tried – unusually successfully – to make this a quiet, uneventful, normal week. So this is going to be boring.
On Monday the kids went to preschool, which they now both love. It is my impression the school is doing a very good job, in a very American way. There's lots of staff ("teachers" even for the one-year-old "students"), who constantly tell the kids how terrific they are. They're super careful (too much so, I tend to think). Every toy or game is extremely well thought through ("how can we use blocks to stimulate this toddler's maths skills?") and they are very focused on understanding each child's individuality and personal interests and needs, which as a mother of outliers and an outlier myself I really appreciate. Every morning Abel hopefully asks "Am I going to EBJ today?" and his teachers give us daily updates of new English words and phrases he is using.
Anyway, back to the boring week. On Tuesday, the kids were home with Vincent, and I had my class on Civil War and First World War Memory. We discussed Geraldine Brooks' Civil War novel March – a book I would love to teach in Leiden. On Wednesday I went to an American Studies lunch talk about sexuality and sexual normativity in 19th century Boston, which was good, and a nice setting to meet American Studies people. This was especially good since I am technically in the history department here, because Jay Winter is, but as I've previously argued here, I don't really self-define as a historian. Also, it was pointed out to us that it was our anniversary, so we vaguely discussed the idea of doing something to celebrate that (but rather lamely, didn't actually do it).
On Thursday however, we were given a 500-piece jigsaw puzzle of the Netherlands by our sweet neighbors. We joked that, really, what we would need is a puzzle with a map of the US (any tips on where to get those?!) but then spent all night doing the NL jigsaw like an old couple. The rest of that day, I was home with the kids, and signed them up to the local public library, which is actually fantastic – huge, free & lots of activities.
Friday was another workday, on which Vincent and I lunched together for two hours or so. Two hours in which we talked only about my work and the theoretical framework of my dissertation – perhaps no need to go to New Haven to do that, but still incredibly useful. On Saturday we picked apples and pears with a German couple and their one-year-old son, perhaps for the last time. The season for leaf-peeping is getting started, and you can already see how beautiful the fall is going to be here.