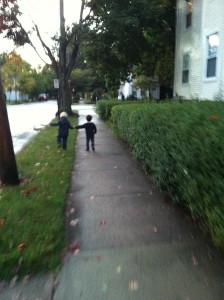 This last week was really good, both in terms of work and play. I'm really in a flow here now. On Monday I had an inspiring conversation with Jay Winter, which gave me lots of things to think about and plans to make. He basically suggested I should write a theoretical article that outlines my conceptual contribution to the field of memory studies.
It came at a good moment, because the next morning my adviser in the Netherlands asked if he could use some of the concepts I have introduced in my so-far-unpublished work in an article he is working on. I love that idea! Even though I'm strongly convinced that I'm doing precisely what I should be doing, I always am also slightly uncomfortably aware of the lack of impact of my work on the world. Of course introducing vocabulary to think about cultural phenomena that others find useful too is not directly going to lead to the invention of a cure for cancer, but that was never realistic. And this does feel very good. I make up words that make sense to other people! I believe there are philosophers who argue this is the one true way of exerting power, and I just accidentally did it. All the more reason though to publish about them. Other than that, I am trying to make a summary of what my dissertation will look like, which is hard and sometimes painful because it means rereading it, but also nice in the way it's nice to look behind you when you're climbing a big mountain.
Then on Friday night my friend Isabelle and her son Cornelius (Abel's age) came to stay with us. They're German, and Isabelle and her husband are at Princeton at the moment, which is incredibly cool and lucky, because getting to see each other is always hard for us. They arrived late in the evening, but Cornelius obviously needed to play for some time after sitting still on the train for hours, and we obviously needed to talk. On Saturday it rained and rained and never really stopped raining, which was really unfortunate. We had been so keen to go to the seaside with them, or fruit picking, or at the very least to show off New Haven. Ilias and I did show them around the Yale campus, but it was not as beautiful in the rain as we know it. In the evening there was a short moment of less rain, in which Isabelle, the big(ger) boys and I went for a walk through Westville, which was lovely. Both boys are well-trained preschoolers so they ran several miles hand in hand. On Sunday morning we all went raspberry picking – probably for the last time. In between and during all this we talked lots and lots. It's so good to have someone whose life is so similar, both in terms of situation and phase and in terms of outlook and attitude. Not every weekend, and not every friendship needs to be like this, but on some level it is what keeps me going.