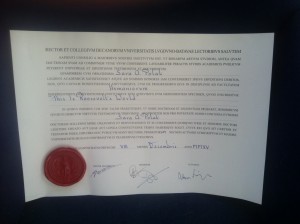 I don't have much photographic evidence yet, but this picture should suffice. I defended my dissertation, and I'm upgraded from Drs. P. to Dr. S.P. And, equally exciting, from PhD candidate/lecturer to assistant professor (it still means I teach and do research, though).
If you read Dutch, by all means check out twitter pal @DeDaanmans's Storify of the defense: https://storify.com/DeDaanmans/dr-sara. More photos to follow.
And to everybody here: thank you for your support, readership, comments, tweets, emails and good thoughts! Chatting to you – even if only in my mind – has been really important.